11th Crayfish Festival set to draw more visitors
Posted: 5 Apr 2018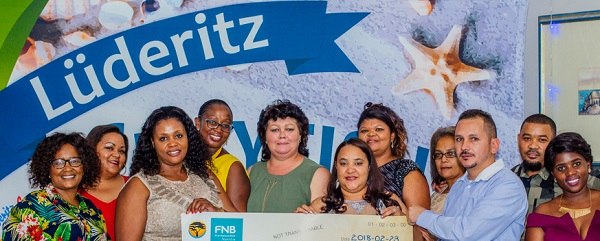 The Lüderitz Crayfish Festival is celebrating its 11th anniversary at the end of April. Over the past decade, this annual event has helped to put the remote southern coastal town on the tourism radar, at the same time becoming the major social event for its residents. This year the festival is slated for 26 April to 02 May.
Earlier this week First National Bank announced that it continues to support the festival, having pledged N$80,000 to cover the expenses for organising this year's event. The history of the bank is closely intertwined with the history of Lüderitz.
Lincoln Meissenheimer, Lüderitz Branch Manager said that FNB Namibia was founded in 1907 with its first established branch based in the town of Lüderitz, some 111 years ago. "For us it is thus extremely valuable and important to apply our Corporate Social Responsibility in the town where our roots are deepest."
Since the introduction of the Crayfish Festival in 2008, great publicity has been generated for the town locally as well as internationally resulting in a surge in visitors during the time of the festival. The influx is seen as a major boost for retail and tourism businesses.
Describing the festival as a growth initiative, Meissenheimer said "We realise that Namibia remains in a recession and as such we are happy to assist local development, thereby accelerating prospective growth initiatives in Namibia."
As main sponsor, the bank uses the festival to promote its products and services to the local community. "The biggest drive will include the registration of our Self-Service channels such as Cellphone Banking, On-line Banking and the banking App, " advised Meissenheimer.
The sponsorship was presented to the Lüderitz Town Council at a local ceremony at the end of February.
[source: The economist]
---